Grade 1 Listed Building Refurb
Hanover Terrace is a Grade 1 listed building overlooking Londons Regents Park. Designed by the architect John Nash in 1822 in the Palladian style, it consists of 20 separate houses. During the Second World War, according to one newspaper, the Terrace fell into a "sad state of neglect…caused by bombing and the ravages of time". It was used as office by Government departments but during the 1950's the freeholder, The Crown Estate, returned this and other Nash terraces to residential use.

Samuely are appointed to design repairs and alterations to one of the houses in the terrace; the previous owner had embarked on some significant alterations but was unable to complete them. The photographs show its current condition. The new owner will continue with the works which include removing a glazed roof, infilling a floor void and extending out at first floor level to create a family home.

The house structure is typical of its time; timber floors bearing on to masonry walls. The main stair is a cantilevered stone stair built in to the masonry walls either side.
All alterations require approval by the Crown Estate and Historic England and, in theory, should be reversible. In practice this means that our design has to be sympathetic to the original building; some of the earlier alterations clearly don't comply and its surprising that they received consent.

Building work commences October 2022 and will take 14 months to complete.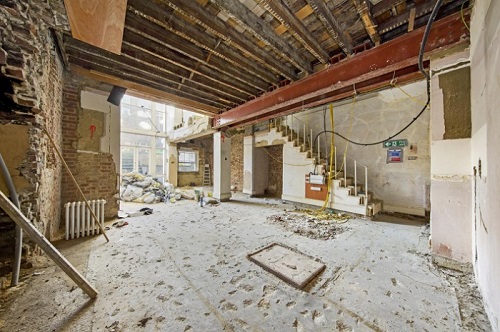 Submitted by Stuart Hutchinson



22/09/22